Beavers Sponsored Silence!
In 2016 the Scout Association introduced a "Million Hands" initiative to develop community impact projects. Leonard Cheshire is one of the partner charities and the local home at Freshfields contacted the Merseyside Scouts County Headquarters, who referred the request on to our Beaver Leader, Hillary Griffin.
This fitted in well with the Beaver badgework for the winter term, as they were doing the My World Challenge which included undertaking a community impact project. After discussion with the volunteer co ordinator, Anne Wood, the Beavers decided to do two things at the Leonard Cheshire Home, firstly to hold a 15 minute sponsored silence the week before half term which raised £112 for the two overseas students who are volunteering at the Cheshire Home this year and secondly to hold an indoor campfire. Anne Wood commented afterwards "That is an amazing amount under any circumstances but for being quiet, well...!"
The session was run like a normal meeting, with initial registration and news, and then the singing, followed by the Beavers normal closing ceremony with the Promise and Beaver prayer. Some of the older Beavers also explained what their different badges represent and told the residents about some of the activities that they have done in Beavers.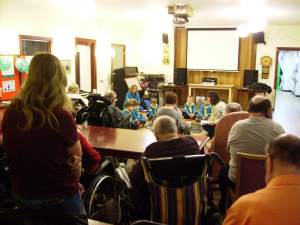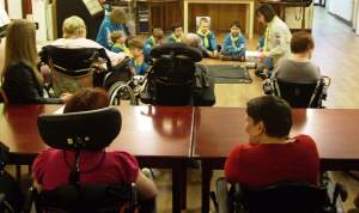 More photos taken at this even can be viewed in the gallery in the Members' Area.